Description
Star Gems are like Lunar, except you can buy more powerful and better items and progress through the game quicker with them. To obtain Star Gems, you must buy them with real money however when you first start the game, you are given 26 free. It is adviseable to not use these free Star Gems to revive your creatures and instead use them for long-term investments such as foliage that speeds up healing/revival abilities or extra attack slots for your starter pet (since these pets are the ones you will most likely use throughout the game).
Recently the daily rewards became the only way to get more stargems without paying for them. Playing the game everyday for a full week rewards you with 7 or so stargems on the last day of the week.
Cost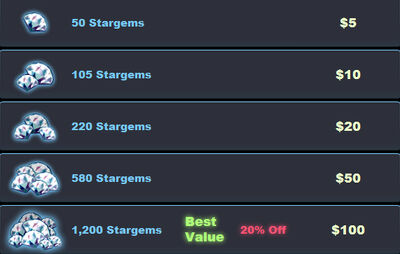 What can I buy?
Building Speedups
Name
Star Gem Cost
Glowbug Tree
6
Fuel Cell
1
Bucket 'o Fuel
5
Fuelisious
15
Fuel Drums
20
Ad blocker interference detected!
Wikia is a free-to-use site that makes money from advertising. We have a modified experience for viewers using ad blockers

Wikia is not accessible if you've made further modifications. Remove the custom ad blocker rule(s) and the page will load as expected.