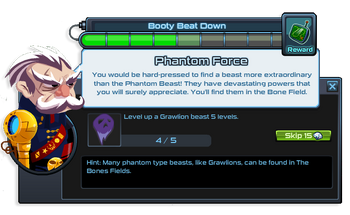 Main Chain
Requirements
Rewards
Difficulty
Hard
Note:
This quest can take a very long time to complete due to the number of levels required. It is recommended that if you have several Dojos and several Grawlions, you can train them all at once to help cut the time spent on this quest down significantly.
Ad blocker interference detected!
Wikia is a free-to-use site that makes money from advertising. We have a modified experience for viewers using ad blockers

Wikia is not accessible if you've made further modifications. Remove the custom ad blocker rule(s) and the page will load as expected.