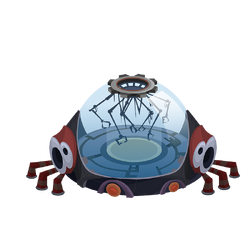 The Laboratory is used to create items that will affect the beast type and starting stats when breeding or incubating eggs, as well as extra fuel for your ship and items that will temporarily boost your beasts' stats.
The Laboratory costs 2,500 Lunar to build and you may have as many as you want. It will take up 9 squares on your homeworld. Each one will start at Level 1, advance to Level 2 after creating 10 items, and cap at Level 3 after creating 25 items. Each time the building levels up, more items will be available for creation.
The materials required to create items in the Laboratory can be found as beast drops or by harvesting. Many can also be sent to you by a friend through Gifts.
Level 1 Recipes
Adrenaline Shot
Flux Seed
Fried Glowbug
Fruit Punch Box
| | | You will need: |
| --- | --- | --- |
| 100px | All Stats +5 for 5 hours on a single beast. | Time: 04h 00m 00s |
Fuel Pack
| | | You will need: |
| --- | --- | --- |
| | A pack of 25 Fuel to power your ship. | Time: 01h 00m 00s |
Glowbug Stew
Gravity Orb
Hot Sauce
Junga Juice Box
| | | You will need: |
| --- | --- | --- |
| 100px | Attack and Cosmic Attack +5 for 5 hours on a single beast. | Time: 04h 00m 00s |
Lunakin Vitamins
| | | You will need: |
| --- | --- | --- |
| 100px | Increase the health stat of your hatched beast by 2. Multiple items of this type can be used to increase your chances. | Time: 08h 00m 00s |
Parona Juice Box
Stellar Spinach
Tik Tik Juice Box
Level 2 Recipes
Aqualos Water
| | | You will need: |
| --- | --- | --- |
| 100px | Increases your chances to hatch a Aquatic type beast from breeding. Multiple items of this type can be used to increase your chances. | Time: 08h 00m 00s |
Broken Bone
| | | You will need: |
| --- | --- | --- |
| 100px | Increases your chances to hatch a Primal type beast from breeding. Multiple items of this type can be used to increase your chances. | Time: 08h 00m 00s |
Circuit Board
| | | You will need: |
| --- | --- | --- |
| 100px | Increases your chances to hatch a Tech type beast from breeding. Multiple items of this type can be used to increase your chances. | Time: 08h 00m 00s |
Chlorophyll
| | | You will need: |
| --- | --- | --- |
| 100px | Increases your chances to hatch a Flora type beast from breeding. Multiple items of this type can be used to increase your chances. | Time: 08h 00m 00s |
Dirt Clod
Electrified Stone
Lava Rock
Ice Cube
Poison Vial
Spirit Charm
Level 3 Recipes
Mineral Cluster
You will need:
100px
Increases your chances to improve the gem type of the beast that hatches from an incubated egg. Multiple items of this type can be used to increase your chances.

Time: 08h 00m 00s

5 Item
5 Item
7 Item
3 Item
3 Item
Ancients Trinket
You will need:
100px
Slightly increases your chances to hatch a higher rarity beast. Multiple items of this type can be used to increase your chances.

Time: 08h 00m 00s

5 Item
5 Item
7 Item
3 Item
3 Item
Ancients Sigil
You will need:
100px
Increases your chances to hatch a higher rarity beast. Multiple items of this type can be used to increase your chances.

Time: 08h 00m 00s

5 Item
5 Item
7 Item
3 Item
3 Item